Batmania
Tuesday, 11 March 2008
Not so long ago I asked for a list of Batman related songs. I do not have that list yet, but Ruud H. provided me with some Batman tunes that I have never heard of. On some of the songs I have no information, but I want to share them with you anyway. Here is, eh, Batman:
.
This version of Batman is played by a band called Microchips, and the song itself is titled Juguemosa Batman, or something very much like that.
.
I was also more than pleased with this 1966 Batman promo, featuring the voices of Adam West and Burt Ward:
.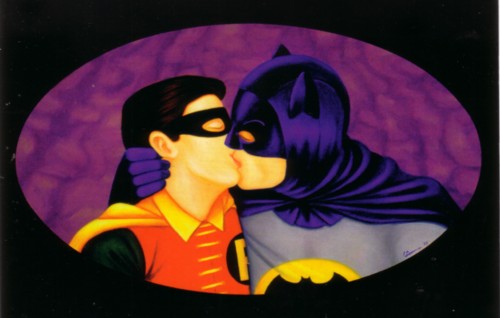 Here is Snoop Dogg doing his Batman thing:
.
And last but not least is here Mr Bach meets Batman by Tom Hazelton & Gene Ciszek:
.
I will try to dig up more information on these tracks. If you happen to have that, please let me know!
By the way, the illustration is made by Isabel Samaras, and was published by Boomerang Freecards to support gay marriages.
Comments: