Peter Pontiac
Wednesday, 2 May 2007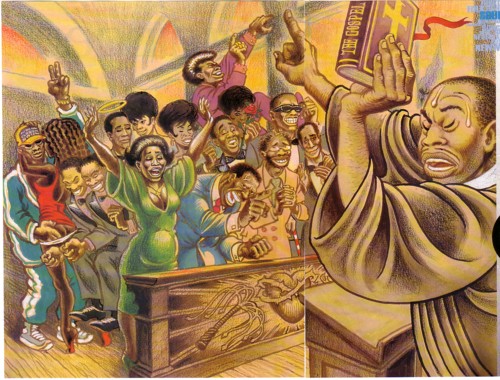 Last week I saw Peter Pontiac at the presentation of a new film and a new comic book by Guido van Driel. (More about that later in this Soundtrack!) I don't see Peter very often, which is stupid, because he is often on my mind.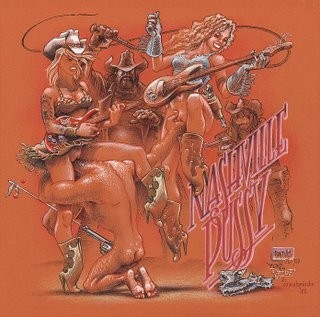 I first saw his work in the late seventies. He lived in Amsterdam back then and he worked for the same publisher that I did lettering for. We rarely talk about comics when we are together, the conversation is usually about mysteries, esoterics and music.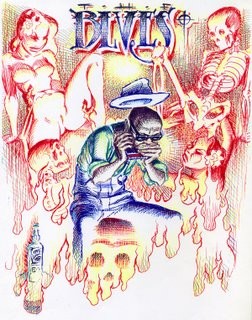 Last week we talked about the Internet, to which Peter is finally connected too. He posts work on Clogwork.
Peter played an important role in a continuing story in my life: the Radiola Art Salon Archives. This was a project of Willem de Ridder, and Peter did most of the artwork. I haven't touched the Archive for a long time, but tonight I played some tapes again and I thought: let's put a few tracks upon my Soundtrack. But since I have little more to tell about the Radiola Art Salon music than I already did here), and since I have not much spectacular illustrations either, I choose some random drawings some from my Peter Pontiac collection.

He has made many many drawings of musicians. The problem for people like me is that his work is published in 1001 different magazines, newspapers, CD's and other publications, that are often so obscure that I guess I have not seen half of all the drawings he makes.
Long time ago Peter made some drawings on T-shirts. Original drawings, made with Eding markers. In case you have never tried to draw with a marker pen on a T-shirt, let me tell you that this is very difficult. I remember that I saw all the shirts and could not believe that they only costed 25 guilders. I bought only two (very stupid!), and one I gave to a dear friend in The States. But I kept a photocopy of the drawing on this shirt and now I can finally show it:

Here is a sampler compilation of music from the Radiola Art Salon Archives. If you want to hear more you have to ask me for good old cassette tapes.
Comments: