Robert Crumb
Thursday, 31 May 2007
Record collecting takes a mixture of talents, crafts and mental deformities. I have never seen the essence of record collecting better portrayed than in the comics and drawings that Robert Crumb made.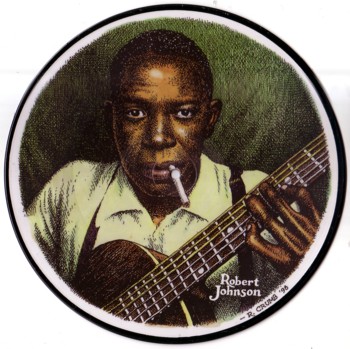 Yesterday I came home with a ten inch picture disc of Robert Johnson, released in 2000 by Paris Jazz Corner Productions, 8 Rue de Nancy, 75010 Paris France. There are only four songs on the record, and I have them already on other records. I have close listened to Robert Johnson many times and I don't mind doing that again, but this story is about Robert Crumb, not Robert Johnson.


The artwork is incredible: I can look at it again and again, and the magic never goes away. Robert Crumb can portray people in a way that they seem more interesting than they seem to me in real life. Still, he is not lying: he really captures the essence of people in those few lines. But Robert Crumb is also a great hand letterer. His lettering is always an integral part of the artwork, which is something that very little artists can do. Right now I am looking at the drawing on the sleeve, of the guy holding a rare 78. Man!


Last year I got The sweeter side of R. Crumb for a present. An hilarious book, with many breath taking drawings.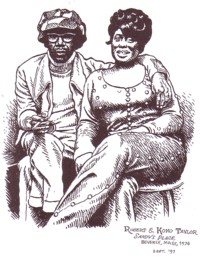 I choose two typical Crumb portraits, but there are also other drawings of Crumb in this book, in which he shows that he can just as easily capture the soul of a tree or a deserted street in a French village. If you are not yet familiar with the work of Robert Crumb, please quit reading this blog and type his name in your search engine NOW! And here tou can read one of the best comic stories that i know of, about something very interesting that happened to one of my other heroes, Philip K. Dick.

Because I expect every reader of this Soundtrack to have at least three LP's/CD's of Robert Johnson, I choose another song: Last kind words blues by Geeshie Wiley.
Comments: