Marco Kalnenek
Friday, 21 November 2008
Earlier this week I got an envelop with this CD in it:
It is a "promotional copy", and apart from an earlier CD, that I got from the same label, it is the only promotional copy that this blog has received so far.
For more than fifteen years I did a weekly radio, I wrote several columns about music for magazines, I deejayed, and i did many other things to promote music. All pretty marginal, but nevertheless: I never got one single promo record or CD. Not that I needed them: I was in record stores several times a week and I had enough money to buy what I liked. But I often wondered why I never got on any promo-list of record-labels. Of course, I would have asked to take my name off immedialely if I had discovered that I wás on such a list; I want to be completely independent.
The label that released the Happy Elf mini-CD is WM recordings. They do a lot of free releases, and some good ones too, but they also release material that you can buy at their site or at I-Tunes. I played the Happy Elf CD a few times today, and I like it so much that I will put at least one song on our next music-for-in-the-car-CD, the next time we rent one.
The WM label is run by Marco Kalnenek. WM recordings is a spin off of his popular website"Weirdo Music":http://www.weirdomusic.com/. I have not written much about that site, because I think that everybody who reads this blog already knows it. If you don't know Weirdo Music yet, pay the site a visit right away and deprive yourself of a few hours sleep today.
I knew Marco before he started the website. We exchanged tapes, and later also a few CD's. Here are the tapes: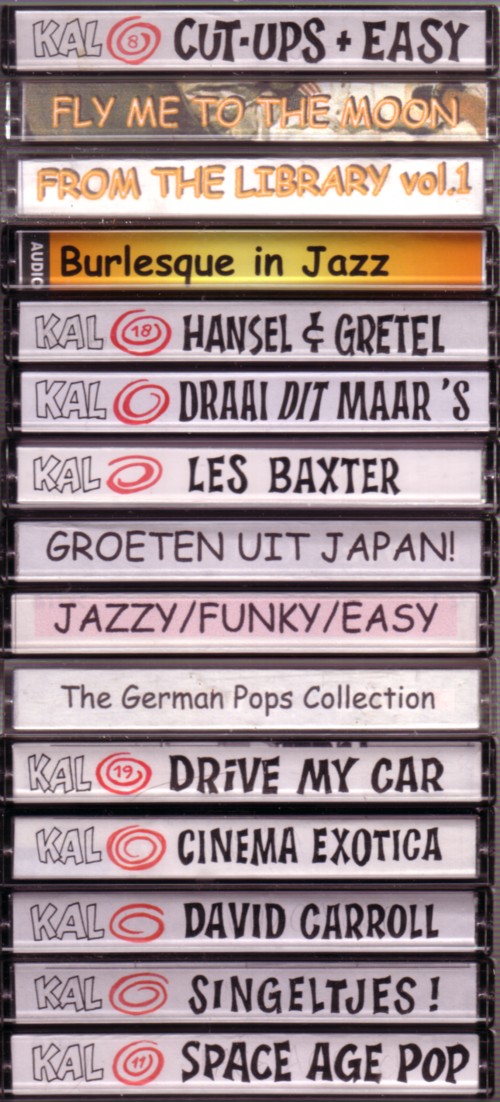 Not everybody that I exchanged cassettes with back then had such a taste, dedication and collection that Marco had, but I have received so much tapes from so many people that I would need five extra life's to describe them in this Soundtrack. I am afraid that this will never gonna happen.
Also forget that you will ever going to read what kind of amazing CDr's I receive: it is all way too much.
Here is a random song from one of Marco's tapes. It is recording from a CD that Marco got for free when he bought a new computer. I have no idea when this was, but is sounds as if it was shortly after the end of WW2.
.
Are there any compilations with all the demonstration tunes that you got with electronic equipment and computers? There must be!
Comments: