Disco, disco
Tuesday, 17 February 2009
Here is the last record from the plastic bag that Dirk Koorn gave me. Well, it is the last record that I want to mention in this Soundtrack. My desk is slowly becoming invisible because of all the stuff that is entering our house and that I have not told you about yet, but this is too important to wait:
It is a Bulgarian LP released in 1979 on the Balkanton label and that is about all I can tell you. Here are the songs and artists that are on this gem: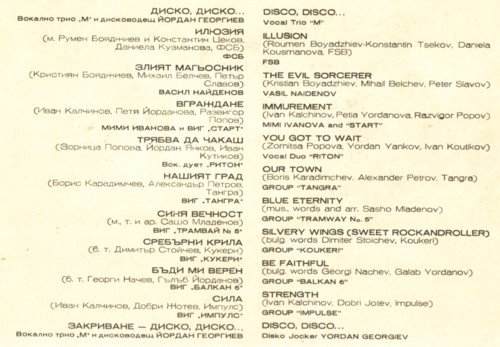 And here is "Disco disco" by Trio M, in which all the other titles of the songs on his LP, and the names of the artists, are recited by a "Disko Jocker" called Yordan Georgiev:
.
Dirk, I can imagine that you want some of the records back, now that you heard them in this blog, but I am sorry, I can't do that.
Comments: