Thugs!
Saturday, 14 February 2009
In the plastic bag that I got from Dirk Koorn ( see yesterday), were not only records, but also some other goodies/ like this set of calligraphy pens: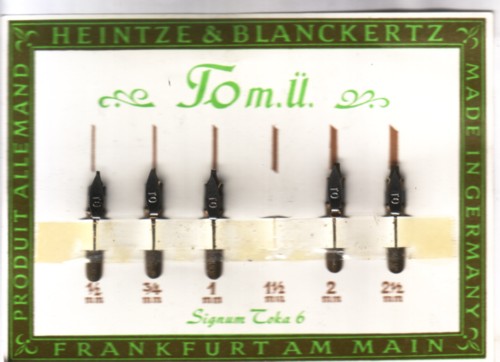 And this comic book:
I haven't used such pens in years, but I will write an next episode of this blog with them as soon as I have a little bit more time.
When I was a kid I have read another comic book in this series, "De tempel van Shiva". There is a small image on the back cover of all the books in the series, which was called "Jungle books":
These books were published by Uitgeverij Nooitgedacht in Hilversum and they didn't even care to mention the artist. Hard core pulp! But these comics deserve a better translation, lettering and colouring, because the stories and the artwork are more than okay.
Here is another 78 rpm record that was in the plastic bag.
It is one by Max Woiski en zijn La Cubana Orkest:
.
And here is the B-side:
.
I counted them, and there are over 30 records in the plastic bag. I am thinking about describing all of them!
Comments: