Tiki wallpaper
Sunday, 22 February 2009
As you know I am very good at starting things, but equally as bad in finishing things. I just cannot think any further than a sketch or an idea. Or maybe I can, but I have no drive to do any more than making sketches and ideas. Every now and then somebody shows me what can be done with some of my sketches, and often I am flabbergasted by the result. Here is some design for wallpaper that Marly Weemen sent me a few days ago: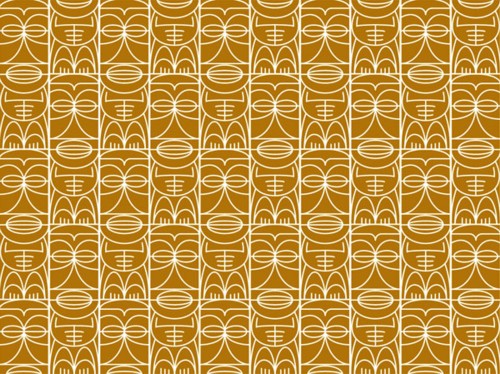 Marly used one of my Tiki drawings ( see here ) and turned it into something that I hardly recognise. While my work looks like it is taken from some school magazine, this wallpaper design that Marly made could have been published in a glossy fashion magazine. I would never be able to do that myself. But it sure made my day when I found Marly's work in my mailbox! She will try to find somebody who might be interested in actually producing such wallpaper. As soon as you can buy it, I will let you know.
Marly has a great website, by the way: In-Space, where she shows what she does (interior designing!) and what she likes (interior designs!).
For those who don't know Marly: she and Pieter Dorrenboom, the-man-with-no-website, live together. (She has given up talking Pieter into making a site, or even making one for him. But I don't give up that easily. I am thinking about an illegal Pieter Dorrenboom site.)
Here is an exotic version of the Disney Tiki Room song. I found it on the Internet, but i have no idea who made it or even in what language it is sung.
.
Comments: