Letters and logo's
Thursday, 4 March 2010
Last week I lettered some cards for an exhibition in het Haagse Gemeeentemuseum. It is an exhibition about fashion, Voici Paris, where original examples of haute couture are shown. I was asked to letter about 150 cards with the names of the couturiers. It had to be done on the spot and turned out to be more difficult than I expected. The cards were sets of different colours and I had to write with different colours ink: white, black, gold and silver.
Some combinations happened to be unreadable in the spotlights, so I had to do several series twice. It took me ten hours, which seems a ridiculous amount of time if you see the result. If I could have done it at home in peace, it could been done with less time and better result, but I am not the one who decides that, of course. And it is fun to do such jobs on location.
As long as there is no deadline I love to be asked to do letterings.
For Splogman Jan I made this logo:
And for Roland Vonk I did this logo:
Roland writes a weekly page for a newspaper "De Oud Rotterdammer" about less known artists from Rotterdam. In the first episodes he describes artists like John van Raaij, The Valentina's and De Cavalli's. This project should end in a massive book about Rotterdams amusement in the first decades after WW2.
Here is a record that probably will be in that book: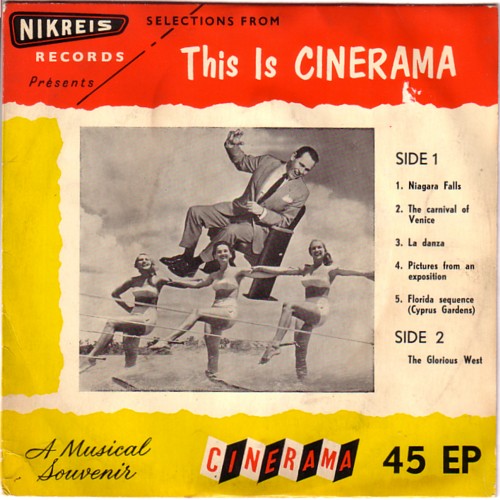 Cinerama is a movie theater in Rottedam that still exists. This 45 is a souvenir record made in the late fifties or early sixties. On the A-side are four instrumental songs with minor SFX's and on the B-side is this opus, called "The glorious west".
I got this record from Milan and even before I heard it, I knew I had heard it before. On a record with the same Cinerama logo. It is the soundtrack of a documentary/movie that was shown in movie theatres, probably mainly for tourists. The Rotterdam movie theatre with same name must have shown this documentary and thought it would make a good advertisement record because the names are the same. This is stuff that Roland Vonk will all sort out for you in his book.
Comments: