Bizarre
Wednesday, 7 March 2012
Ik snap niet dat Frans de Jong nog vrienden heeft. Elke keer als wij elkaar ontmoeten, krijg ik groter schuldgevoel over de prachtige boeken en tijdschriften die hij me geeft. Het zijn altijd boeken waar ik heel blij mee ben, ook al heb ik al jaren geen ruimte meer in mijn boekenkast. Zoals bijvoorbeeld deze aflevering van het Franse blad "Bizarre", die ik onlangs kreeg: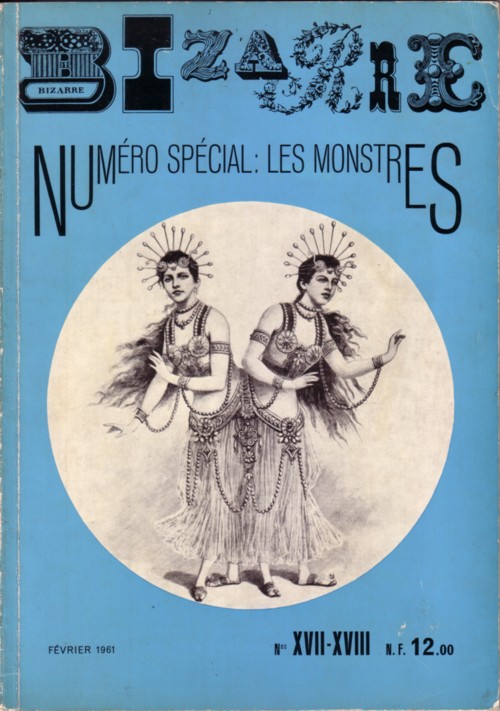 Eind jaren tachtig raakte ik diep gefascineerd door dit onderwerp, destijds meestal "freaks" genoemd. Ik kreeg via Marcel Ruyters een hoop gefotokopieerd materiaal, en met mensen uit alle delen van de wereld correcpondeerde ik om meer informatie te krijgen. Maar op een gegeven moment was ik verzadigd en begon ik me te irriteren aan de sensatiezucht van somige mensen met wie ik in contact kwam. Sensatiezucht was mij uiteraard ook niet vreemd, maar ik was voor al oprecht gefascineerd in de manier waarop mensen met een extreme afwijking omgaan. Net zoals ik gefascineerd ben door de manier waarop mensen met extreme omstandigheden of extreme talenten omgaan. Het werd me al snel duidelijk dat er geen rechtlijnig verband is tussen hoe iemand zich voelt en zijn of haar omstandigheden. Dit vind ik nog steeds een van de onbegrijpelijkste gegevens.
Ik zoek al jaren niet meer naar informatie over "freaks". Al heb ik wel nog een aantal keren op YouTube een avond dorgebracht met bewegende beelden. Maar ook daar werd ik onpasselijk van de sensatiezucht die met die beelden meekwam in mijn hoofd.
In "Bizarre" staan enkele fraaie foto's. Ik laat alleen de mooiste zien: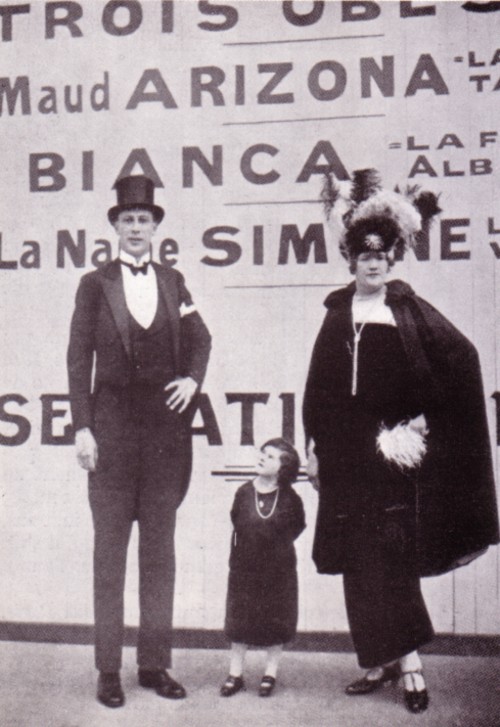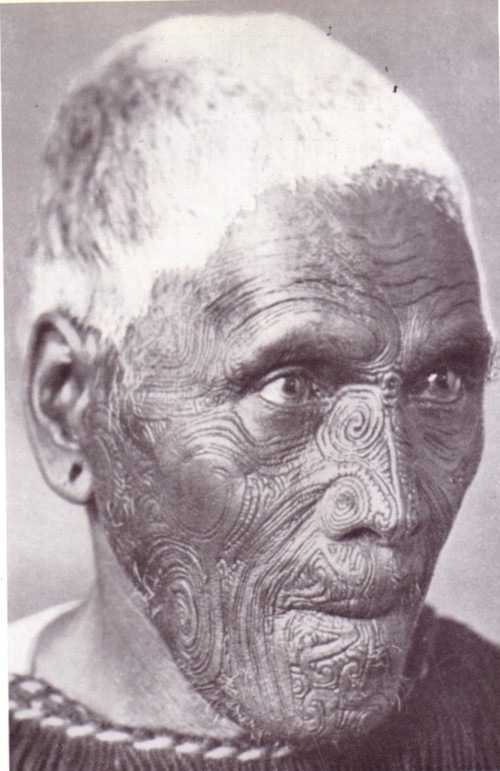 Omdat veel van de beste foto's die ik ken slecht gereproduceerd zijn, of slecht genomen, zou ik heel graag een budget willen om een boek te maken over dit onderwerp. Ik zou dan een aantal hele goede tekenaars vragen om mijn favoriete foto's na te tekenen, zodat deze uitzonderlijke mensen op een waardige wijze de geschiedenis ingaan.
Comments: