Van Gogh project
Monday, 19 March 2012
Ik heb wel eens verteld dat ik met T. een Van Gogh Project doe. Dat stelt weinig voor, ik bedenk vooral projecten die ik vervolgens niet uitvoer. dat zou ik vsaak ook niet kunnen. Zoals het idee om al zijn vroege schilderijen opnieuw te maken in de stijl van zijn later schilderijen. Of om in al zijn landschapschilderijen de luchten te vervangen door de blauwe lucht die hij later een paar keer schilderde. Of om op al zijn portretten van andere mensen het linkeroor weg te halen. Of om een tentoonstelling te maken van alle schilderijen die er onder sommige van zijn werken zitten, omdat hij ze heeft overgeschilderd. Of om aan de mensen die dagelijks in de rij staan voor het Van Gogh museum doosjes met een bloederig nep-oor te verkopen, met een certificaat van echtheid.
Waar ik wel mee ben begonnen is om al zijn schilderijen met een Eding-stift te bewerken tot namaak glas-in-lood ramen. Bij sommige schilderijen is dit makkelijk, maar bij anderen is het knap lastig. Ik knip al jaren alle reproducties uit die ik tegen kom, maar ik heb helaas lang niet van alle schilderijen mooie plaatjes. Hier zijn een paar bewerkingen: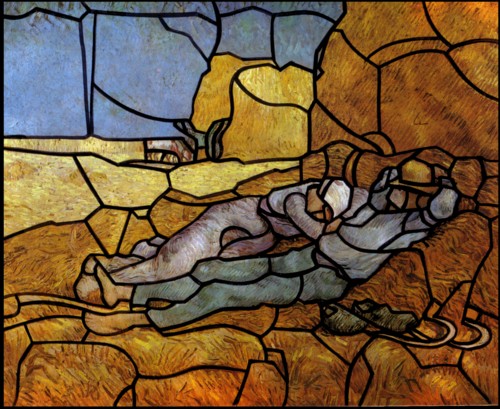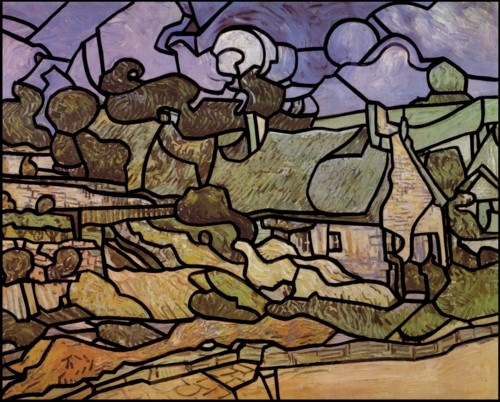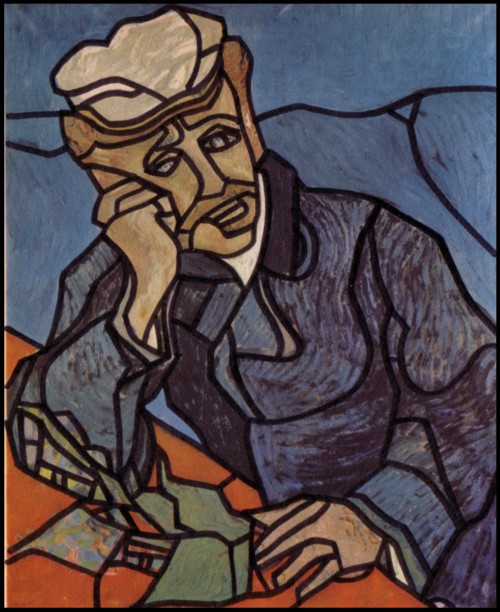 Er zijn ongeveer 423 schilderijen van Van Gogh bekend. Dat is in een jaar goed te doen. En dan een een tentoonstelling in een tent tegenover het Van Gogh museum.
Comments: