Mannen van de radio
Saturday, 14 November 2009
Ik heb zelden zo hard gelachen als om de Mannen van de radio. Dat waren Pieter Bouwman, Hans Teeuwen en Theo Maassen, die in wisselende samenstelling sketches deden voor het VPRO programma De Avonden. Het waren vaak geïmproviseerde interviews, die al snel volledig ontspoorden. Maar het bleef altijd een bijna beangstigende imitatie van wat er werkelijk op de radio te horen valt. Ik heb vandaag de hele dag naar De Mannen van de radio zitten luisteren en lijkt alsof de sketches alleen maar beter zijn geworden.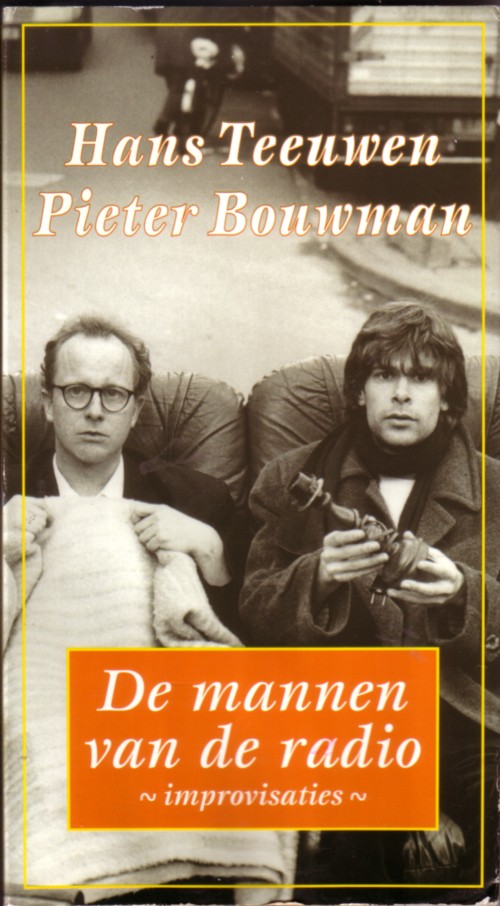 Er schijnt een min of meer compleet bestand op het Internet te circuleren met alle 256 (?!) opnames van de Mannen. Ik heb alleen de dubbelceedee, die Hummelinck Stuurman Producties uitbracht in samenwerking met de VPRO en een stuk of twintig afleveringen op cassettes. Ik heb al een paar keer geprobeerd die file met andere mannen opnames te downloaden, maar dat bleek helaas te hoog gegrepen voor mijn analoge brein. Wel heb ik hier en daar wat afleveringen kunnen beluisteren, en ik vind het bijna altijd allemaal briljant. Ondanks dat ik veel afleveringen maar één keer heb gehoord, vijftien jaar geleden, herinner ik me ze nog goed. En sommige van de afleveringen die ik me herinner (zoals de voetbalcoach die een dode spits opstelt voor het verrassingseffect) zou ik dolgraag nog eens terug willen horen. Het liefst zou ik willen dat het complete archief gewoon te koop was als een mp3-ceedee! Maar dat zou ik van nog veel meer archieven willen, en het ziet er naar uit dat het stom zou zijn om daarop te gaan zitten wachten. Dus als iemand me aan een kopietje kan helpen, graag.
Hier is een aflevering die ik vandaag voor het eerst hoorde:
.
Vooruit, nog een:
.
Comments: