Vliegende vissen
Monday, 7 November 2011
Ik weet niet wanneer vliegende vissen voor het eerst gefilmd zijn, maar ik kan me niet herinneren dat ik ooit zo'n opname gezien heb voordat er eentje op YouTube verscheen. Inmiddels staan er een paar, en dit is de leukste, als het van een ander soort vliegende vis dan waar dit verhaal eigenlijk over gaat:
Vliegende vissen gaan, net als de coulancanth, de menselijke verbeelding te boven. Ik kan me voorstellen dat zeemannen, die vroeger thuis vertelden dat ze vliegende vissen hadden gezien, niet makkelijk geloofd werden. En ook toen de eerste foto's van een vliegende vis bestonden, hadden nog maar heel weinig mensen ooit gezien hoe zo'n vis werkelijk vliegt. Ik weet niet wanneer ik voor het eerst van het bestaan van vliegend vissen hoorde en wanneer ik een foto of tekening zag, maar er staat er eentje in het boek "Leerboek der dierkunde" uit 1962. Ik herinner me dat ik me als kind voorstelde dat zo'n vis niet echt vloog en dat ie alleen maar een flinke sprong uit het water maakte.
In het boek "De dierenwereld op postzegels" (1953) staat een postzegel met een tekening van een vliegende vis, uitgegeven door Mozambique in 1953. Helaas in zwartwit, maar hee, hoeveel postzegels hebt u met afbeeldingen van vliegende vissen?
In hetzelfde boek staat ook een postzegel met een afbeelding van een goudmakreel. Dat is een vis die leeft van vliegende vissen. Ik vraag me af of de goudmakreel ook een beetje kan vliegen. Dat zou mooi zijn: twee vissen die elkaar in de lucht achterna zitten.
Op het internet staan aardig wat foto's en tekeningen van vliegende vissen. Hier zijn er twee: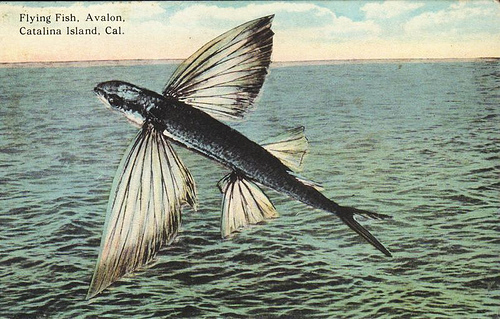 Maar het gaat natuurlijk om bewegende opnames van de vliegende vis. Op YouTube staan twee geweldige video's:
Wordt vervolgd!
Comments: