Reader's Digest
Tuesday, 14 October 2008
I have not yet found to courage to try and work my way through the Reader's Digest flexi records in my advertisement record collection. I have postponing this for at least fifteen years now. I don't know too much people who are collecting this stuff, and I only know one person who actually did an attempt to do something with these records. That person is Pieter Jan Vink; he made a compilation CD of some of the "best" Reader's Digest flexi records: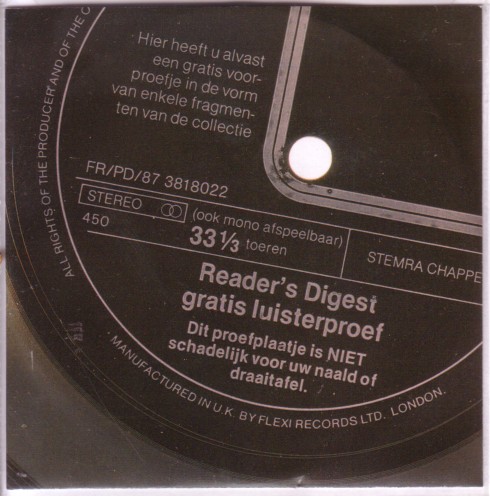 Last night I got a plastic bag full of 45's from Dirk Koorn, again. And in that bag were a pile of Reader's Digest flexi's, again. And again I just placed them on the shelf, with the rest of my Reader's Digest collection.
I have no idea how many Reader's Digest flexi's I have (I haven't even found the courage to sort out the double records) and neither do I have any idea how many flexi records were ever made by Reader's Digest, but it sure is far more than any normal human being can handle.
These flexi records came in envelops with a lot of information on the LP-boxes that they advertised for. I collect these envelops and al the information too, of course. I don't collect all of the LP-boxes. My parents had a few, and they were not as bad as you might be tened to think. And some of these boxes are even good, like the Ted Heath box for example. But in most cases I rather keep it with the advertisement flexi's.
I have many ideas of what can be done with the Reader's Digest flexi's: montages, cut-up's, mixes, mash-up's, etcetera. But there are so much better things to that I doubt that I will ever get to it.
These records are absolutely the lowest-of-the-lowest. That is what makes them interesting, of course. But you have to be in a very very special mood for it.
Here is one of the Reader's Digest records; the only one that I have ever seen on a want-list:

And please notice the subtle mixing that has been done for this record!
Comments: