Vlees
Friday, 28 August 2009
In some of the first stories that I wrote on this blog I mentioned Willem Vleeschouwer. I think that he is one of the best and original Dutch comic style artists, but I know him most of all as a soccer player. Wartburgia, the club where we both play at this moment (although I haven't played in two months…), organises a yearly party, where every team, or at least one team member, has to do something on stage. Here is Willem doing his thing on last year's party:
Tonight Willem was here to bring a copy of his new comic book:
As usual I did the lettering. But the publisher didn't sent me copies (neither did he pay me), so Willem gave me one of his copies. And he also gave me another little booklet, with a selection of some of his recent drawings. He had this booklet made in a limited edition of 5 copies:
To show you why I think hew is such a great artist I made scans of a few of the drawings in this booklet: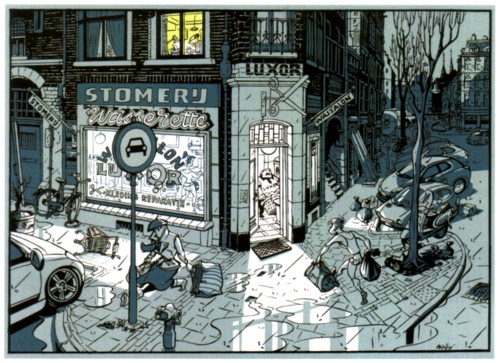 I had the luck to have been on stage with Willem once, many years ago, as a drummer, when Willem played the trumpet in "Het Harrie Kapje Combo". That was quite an experience. I had no idea what the repertoire was, I didn't know any of the band members, and I wondered if anybody in the audience could tell whenever a song started or ended. Unfortunately there are no recordings of this concert.
Comments: