Happy birthday
Sunday, 6 January 2008
My first site, which is now officially dead, was called Siteshow. I am fascinated by sideshows and I thought it was a nice name for the site I had in mind. The site was made by my brother-in-law in April 2000, but the next month he got a new job and had no more time to work on the site. And since I couldn't do it myself, the site was in coma for almost seven years.
I wanted to have a tune played when people visted the site, but in 2000 that was not as easy as it now. Actually I had two tunes in mind: Sideshow by Wendy & Lisa and Let the sideshow begin by Barry Biggs. Both artists have not even been mentioned yet in this Soundtrack!

Today I played some 45's, and one was by Wendy & Lisa, Are you my baby. As a Prince fan I bought some of their records, until I realised that I really only liked the Prince songs. On the B-side of the single is a Happy birthday song, which sounds as if Prince had something to do with it, but that is not the case. Here it is:
.
It is amazing how many Happy birthday songs there are, considering the fact that most people can only sing one. Even The Sugarcubes made a Happy birthday song!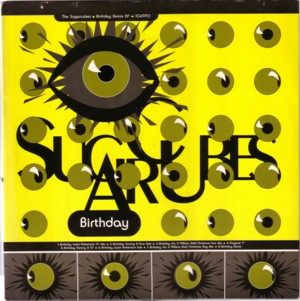 It is on a 12 inch record, with eight different re-mixes of the same song. I am too old for re-mixes. I just don't understand it. I prefer to have a 45 with a different hit on both sides, in stead of a 12 inch with eight remixes of the same song! Of course, I didn't buy this record, it came in one of the boxes that I got from Alex Sas.
Here is the original 7 inch version:
.
Please don't send in comments that this is a shitty episode. I know, I know… But hey, it is my love's birthday!
Comments: