Marcel Rujiters
Tuesday, 15 January 2008
Marcel Ruijters has been mentioned before in this Soundtrack, but I need more time and words than I have spend on him so far to give you an idea of what he and his artwork meant in my life. You can see some of his artwork here and there on the Net, but there is much much more than that. Some of it is in boxes in my home, but I would have to start writing an hourly Soundtrack to even scratch the surface.
Yesterday I got a letter from Marcel, with some photocopies of new scraperboard drawings that he is working on, for a publication by Le Dernier Cri.

Apart from the artwork and letters that he sends me, Marcel is a source of information, about an universe that fascinates me. The word most often used to describe the inhabitants of this universe, or actually universes, is outsiders, but it is just a name. Our last letters were about the Polish artist & philosopher Stanislav Szukalski, and to call him an outsider is ridiculous. More about Stanislav Szukalski later, but I will show some postcards of his work. These cards were published in the eighties by Glen Bray & Leny Zwalve, who to care of the Szukalski legacy! If you have never heard of this incredible artist, you are in for a nice surprise. Here is his official website.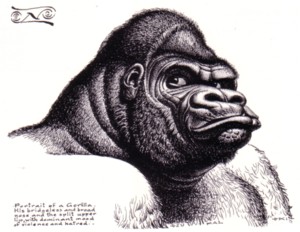 For this occasion I picked up one of the oldest tapes that Marcel has sent me. It is a cassette with sound collages, and on it is written Anus Presley/Donald Fuck.

I guess that this tape is almost twenty years old, and I have no idea what or who Anus Presley and/or Donald fuck are. Well, I do have some ideas, because I remember corresponding with the original source of this tape, but that didn't shed much light on neither the tape nor its maker. Here is an excerpt from the tape.
Comments: