Merkmannetjes
Sunday, 3 July 2011
Een project dat ik al jaren in slow motion tot een nog niet geheel bepaald einde probeer te brengen, is het verzamelen en hertekenen van Nederlandse trademark characters. Ik heb ze merkmannetjes genoemd, maar het mogen ook vrouwtjes, varkens of robots zijn. Als ze maar ooit door een Nederlands bedrijf als merk zijn gebruikt.
Ik haal de merkmannetjes van verpakkingen, uit advertenties, uit video´s, van stickers, speldjes en sleutelhangers. Meestal zijn ze niet heel erg interessant en vaak zijn ze niet goed te reproduceren. Dat komt goed uit, want het leukste deel van dit project is het natekenen van de merkmannetjes. Onlangs heb ik twee merkmannetjes van sleutelhangers nagetekend. De olifant van Vitella heb ik nog nooit in een advertentie gezien,dus ik moest het met deze sleutelhanger doen:
Omdat op de sleutelhanger de lijnen niet erg duidelijk zijn, en ook al omdat de olifant geen toonbeeld van schoonheid is, is het resultaat weinig spectaculair. Maar ik ontleen veel genoegen aan het feit dat zo'n obscuur en vergeten merkmannetje nu toch een soort monumentje heeft gekregen: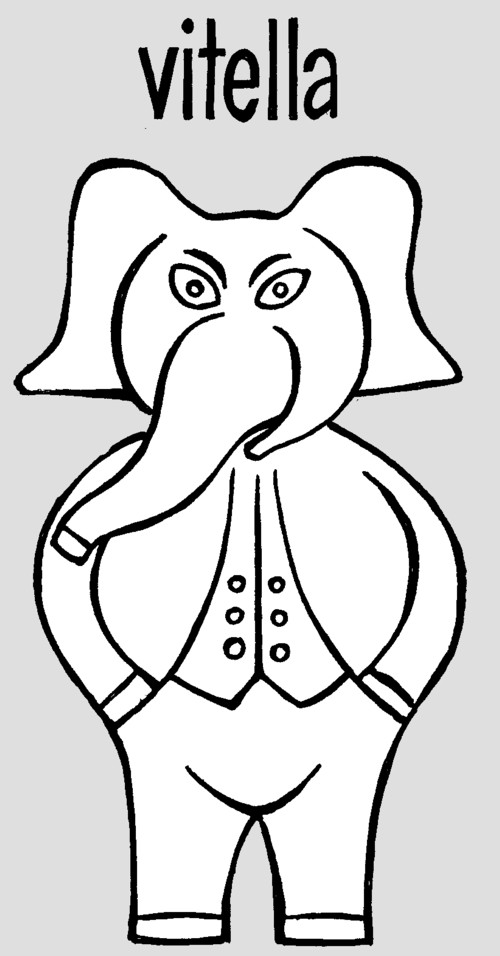 Het bakkertje op de sleutelhanger van Hellema is een stuk duidelijker
En het resultaat is meteen een stuk aantrekkelijker:
Van veel merkmannetjes bestaan hele goede afbeeldingen. Hier is er eentje uit een advertentie van Supralux verf: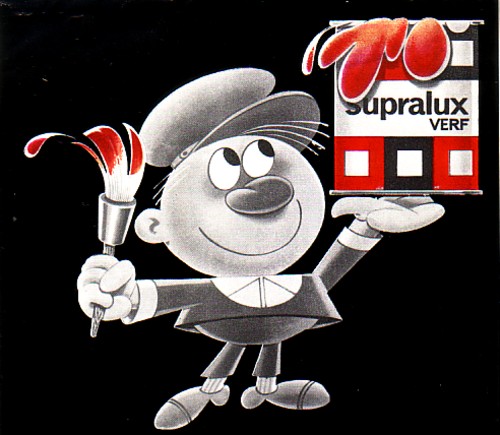 Mocht u afbeeldingen van meer van dit soort reclamepoppetjes hebben, in welke vorm, staat of formaat dan ook, dan houd ik mij aanbevolen!
Comments: