Agent
Friday, 19 December 2008
I started lettering for Casterman 25 years ago or something. And Casterman is a publishing company that also publishes Tintin, the most famous comic book series of Europe.
The Dutch edition of the Tintin books that you can buy at this moment is NOT hand lettered. They re-translated all the books a few years ago and for mysterious reasons they choose to use an ugly type font in stead of a hand lettering. Of course, lettering all the Tintin books is a lot of work and that would cost some money, but these books have been best sellers for decades!
I did letter some Tintin books. I remember a Russian edition and several Esparanto editions, but never a Dutch edition.
The people that own the copyright over Tintin are not very easy going. Several people who used the character were sued, and I know at least of one book ABOUT Tintin, for which the author got no permission to use illustrations.
A few days ago I made this design, which I hope that Casterman wants to print on a T-shirt, but I give myself very little chance: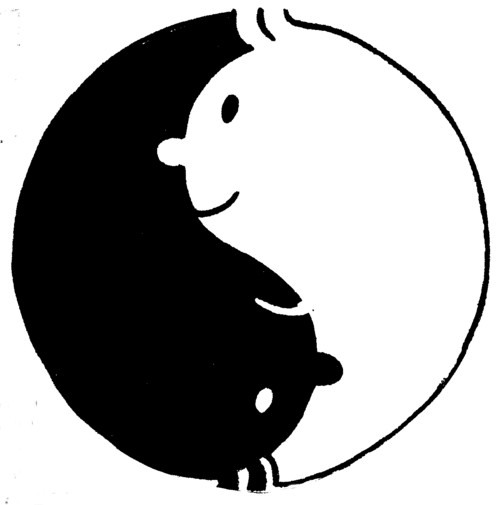 And here is another recent drawing, inspired by the Yin&Yang symbol, that I think would do well on a T-shirt:
The problem is that I haven't been able to sell a design to a T-shirt company for a decade, and all my experiences in the years that I did work for T-shirt and postcard companies were pretty bad, to put it mildly. I would love to have an agent. Somebody to whom I can send all the stuff that I make, and who tries to sell it for me. Anybody looking for a job?
Comments: