Aruba Adventurers
Tuesday, 9 December 2008
25 years ago I stayed on Curacao for a few weeks. I was invited to come with friends who were born there. Back then I knew quite a few people from Curacao; there was a large community of people from Curacao in Amsterdam. I have not travelled very much; I like to stay at home. But back then I had nothing to do, and because I can't stand cold, and because people on Curacao speak Dutch, I thought it might be a place to live, if I really liked it there. But although I had a great time there, it was clear that I didn't fit there. I will write about that period later. I hesitate to do that, because I think I will have to show some pictures of myself in these stories, and so far I have avoided that.
Since my stay there, I have a special place in my mind for the former Dutch overseas colonies, of which Curacao was one. Aruba was another one. Among the pile of exotic soul records that I mentioned yesterday was also this LP from Aruba:
I don't know the band, but there is a little bio on the back of the LP: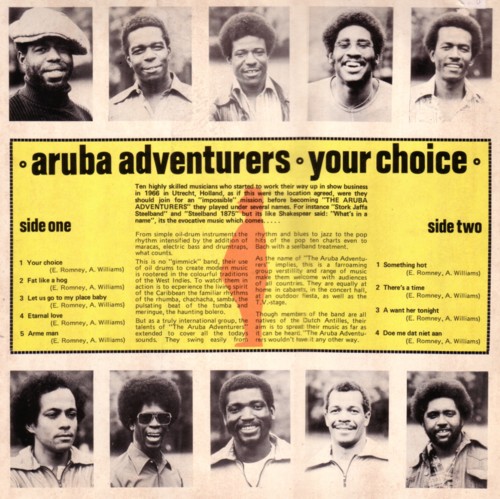 Both Dutch songs are not soul, so here is "Etarnal love" Mind you, not Eternal love, but Etarnal love!
.
Comments: