Stroff
Monday, 19 January 2009
When I began collecting rockabilly records in the early eighties, there was hardly anything. I had the luck that a nearby second hand record store put stuff aside for me, but even then, it was impossible to get decent compilation LP's of people like Johnny Burnette or even Gene Vincent. The good thing about that situation was that every new find was exciting. I remember that I made tapes for friends whenever I discovered something new. And that was an other good thing about the situation back then: there was so much yet to be discovered!
While searching for the Tiki-record, I saw a lot of great records on my shelves that I bought back then. Well, I doubt if many other people will agree about the position on the scale of greatness that I assign to these records; I cannot separate the records from the memories.
Here is one such 45, by a French band called Stroff, produced by the legendary Burt Blanca. He has not yet been mentioned in this blog, which is something that has to be corrected for soon. I don't know anything about Stroff.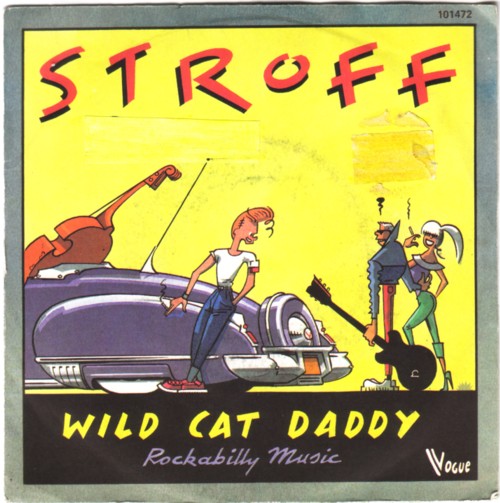 The previous owner of this 45, P. Moons, wrote his name with a big black pen on both side of the sleeve, but a white sticker and a yellow pencil can do miracles. The artwork is of course by Ever Meulen, who didn't seem too insprired when he did this drawing. But hey, this guy was a demi-God in 1981, when this record was released!
.
I am still waiting for a CD with all these early eighties European rockabilly one hit wonders. Or I am supposed to make it myself? Any tips, anybody?
Comments: